Why audience response systems
Imagine the perfect meeting. A meeting where attendees are actually excited to share knowledge and explore ideas. A meeting where new voices are heard. A meeting where organization is paramount and ROI goals are attainable...
Over thirty years go, this dream inspired us to create our first audience response system. From our first software programs and keypads to a fully digital polling suite, we've revolutionized the polling process to the speed of digital. Join our team of meeting specialists and see how audience response systems will transform your meeting.
"Things went GREAT in Anaheim last week. Big thanks to you and Josh for making it happen. Anytime ...
Andrew W., Executive Producer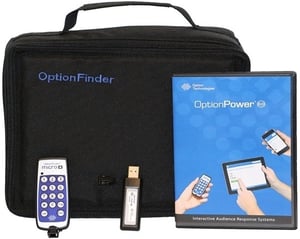 YOUR PERFECT SYSTEM
Our audience response systems begin with your specific needs and goals. Once we discover those needs, we select a personalized three-component solution.
Connect: Wireless audience response keypads transmit input and votes
Compute: OptionPower audience response software integrates seamlessly with Microsoft PowerPoint to receive audience input. The software incorporates the information into PowerPoint in real-time.
Customize: Our unique line of add-on modules helps you customize OptionPower to your specific needs.
With every audience response rental or purchase, you will also receive the training and support you need to achieve your learning goals.
GO DIGITAL
As the world goes digital, our polling software follows suit. We now offer completely digital polling solutions. Rather than using a classic OptionFinder clicker, you can either rent from our iPad fleet or vote from any internet-connected device with our Vvoter platform.