Connect. Vote. Learn.
The OptionFinder G4 gives presenters and audience members an easy way to connect and share valuable insights.
Dependable
The intelligent power saver and low battery warning keeps your meeting connected.
Dynamic addressing (Trackable ID)
Simple participant tracking with configurable device ID allows participants to switch rooms and sessions without sacrificing data.
Multi-Digit Input
Gather more meaningful data with the ability to enter answers to open-ended questions involving calculations, pricing and ranking/prioritization possibilities.
Full LCD Display
Give attendees the assurance their vote was received and calculated. The LCD Display allows participants to visually verify their information when working with numerical or ranking inputs. Backlight makes input easy even in low light auditoriums or situations. The display will show 2 lines of text with 11 characters each.
Enhanced Signal
With our proprietary technology you will experience an excellent range of 650 feet, immunity from interference, and data security compared to competitive products.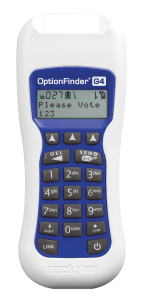 Talk To Someone
About Your Options