an extension of your team
Developing personalized solutions is the foundation of Option Technologies. Our team of experts will help you implement the technology in your programs. Together, we'll assess your specific needs and develop a plan to help you achieve measurable results.
OTI will help you find the best input hardware choice - clicker, iPad, or browser app - and determine the appropriate presentation software tools.
Option Technologies both sells and rents systems so we can tailor a system and support for your situation. Our experts will deliver the hardware and software that is the best fit for you. Then we provide live personalized support to your presenters for as they prep, present, and analyze results.
TIME-TESTED METHODOLOGY
Interaction is essential for live, face-to-face learning environments. Option Technologies tailors its entire methodology to fit the needs of each and every client. With the OptionPower software and wireless handheld keypads, learners can easily respond to questions throughout the PowerPoint-based presentation. This process gives teachers and trainers the power to gauge learner comprehension and instantly adjust accordingly. The flexibility increases audience retention and saves time. The live polling results also give the audience an opportunity for reflection, discussion and learning.
"This is one of the reasons I like this company so much. They are very proactive, I will share this ...
Debbi M., Religious Conference Organizer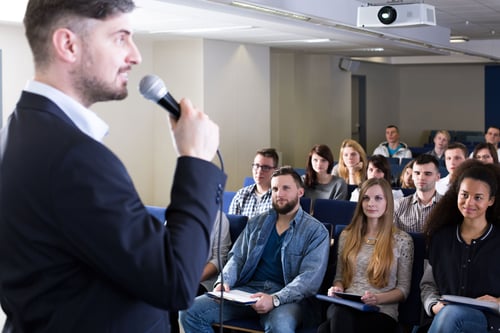 The proof is in the RESULTS
OptionPower software is leading-edge group participation technology. This software was specifically designed to meet the needs of our loyal customers. OptionPower will help you:
Boost Retention
Learners will increase awareness, focus, and leave with greater memory recall because they never know when the presenter may ask a question. Our system is proven to convert passive audiences into active learners while increasing comprehension and test scores.
Increase Attentiveness
Interactive presentations will provide real-time data and enhance discussion on learning topics. Studies show the use of a system increases attentiveness by 37% or more.
Extend Participation
Keypads or apps give shy attendees an input "voice" and help balance input from more dominant participants.
Reduce Training and Learning Curve
Use instant assessments to determine each individual's readiness for additional instruction and workplace implementation.
Save Time
Because you can assess learning as you go, you can cover more topics in less time. Once the group has mastered the concept you can move on, if need, you can loop back for additional instruction. Your presenters will be able to tailor instruction to meet the specific needs of each audience and skip over content that is already familiar to the group.
Want to learn more? Click here to connect with us for a web demonstration and consult or request a free quote below.