Simple. affordable. effective.
The efficiency, speed and overall durability of OptionFinder Micro 4 technology make it a great fit for audience response interaction in meetings or classrooms. The OptionFinder® Micro 4 is OTI's latest highly portable wireless keypad. It offers single and multi-digit interactive audience response capability, at a great value, for organizations of any size.
Intuitive Design – When paired with OptionPower® audience response software, the Micro 4 keypad system equips audience members to answer questions with single or multi-digit numeric input. The built in LED display provides immediate confirmation so users know their response has been tabulated.
Proven Performance – The Micro 4 uses patented Frequency Hopping Spread Spectrum (FHSS) technology for secure and reliable radio communications. With two different models of base station transceivers, the system can be conveniently configured for both small and large audience use.
Class-leading Total Cost of Ownership: Low acquisition costs and durable, proven manufacturing standards will enhance your bottom line. The molded case is resistant to damage and breakage. Enhanced power management circuitry provides extended battery life of up to 12 months or 20,000 responses. The small size of the Micro 4 also minimizes shipping and storage costs.
Whether you're looking to update your response system with a new response keypad or to try a response system for the first time, the OptionFinder® Micro 4 is ready to provide great value and ease-of-use for adult learning, audience polling and electronic voting.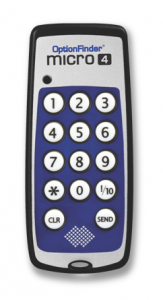 Talk To Someone
About Your Options