Audience Response Systems are revolutionizing the way we meet, learn, teach, and interact in professional, educational settings. Explore the basics and how different systems can help accomplish your business or academic goals.
Bookmark this page to browse whenever you need it, jump to a specific topic using the table of contents below or download this page as an ebook using the sidebar link.
What is Audience Response?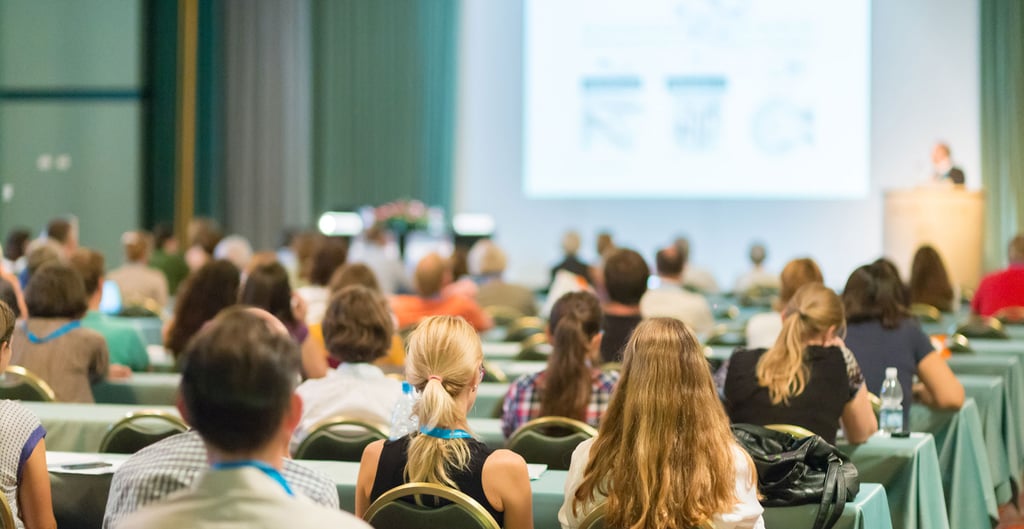 Presenters, facilitators, and instructors use audience response technology to turn passive listeners into active participants. Audience members contribute ideas, react to others, and enhance the value of time spent together by collaborating with the group.
Meeting participants process and retain information in different ways. In fact, adults constantly struggle with boredom, focus and memory retention. Even when it counts the most, presentations, lectures and training programs don't consider the needs, skills and attention spans of adult learners.
Modern science has revealed that learning styles and preferences vary a lot from person to person. Education with an active learning approach, rather than a passive one, is proven to be more effective.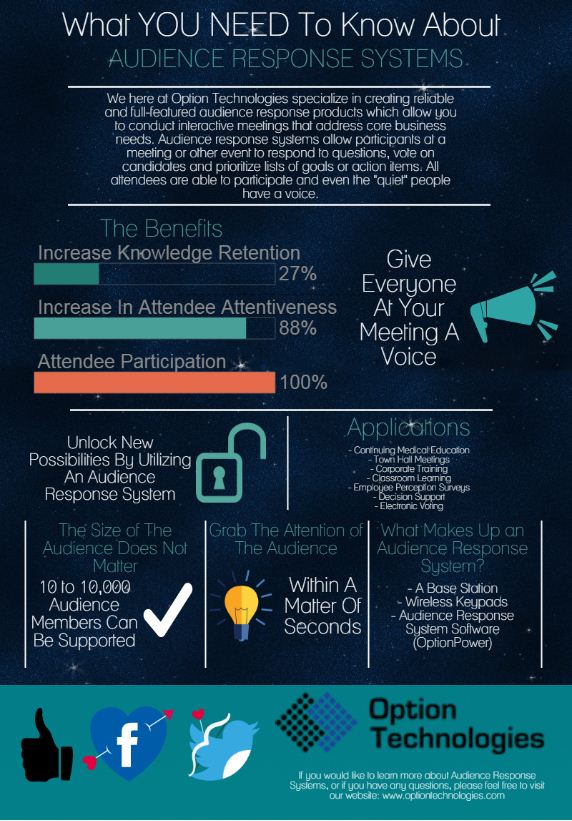 Active Learning
Active learning is "anything that involves people in doing things and then thinking about the things they are doing".
Instead of listening to remember and understand, active learning helps to retain information easier by putting an emphasis on analyzing and creating. Interactive exercises, audience assessment, gamification, surveys, and critical thinking are all active ways to maximize adult learning.
This use of technology to drive interaction between a presenter and their audience, is so effective and successful that it's spawned the entire Audience Response Industry.
Retention and ROI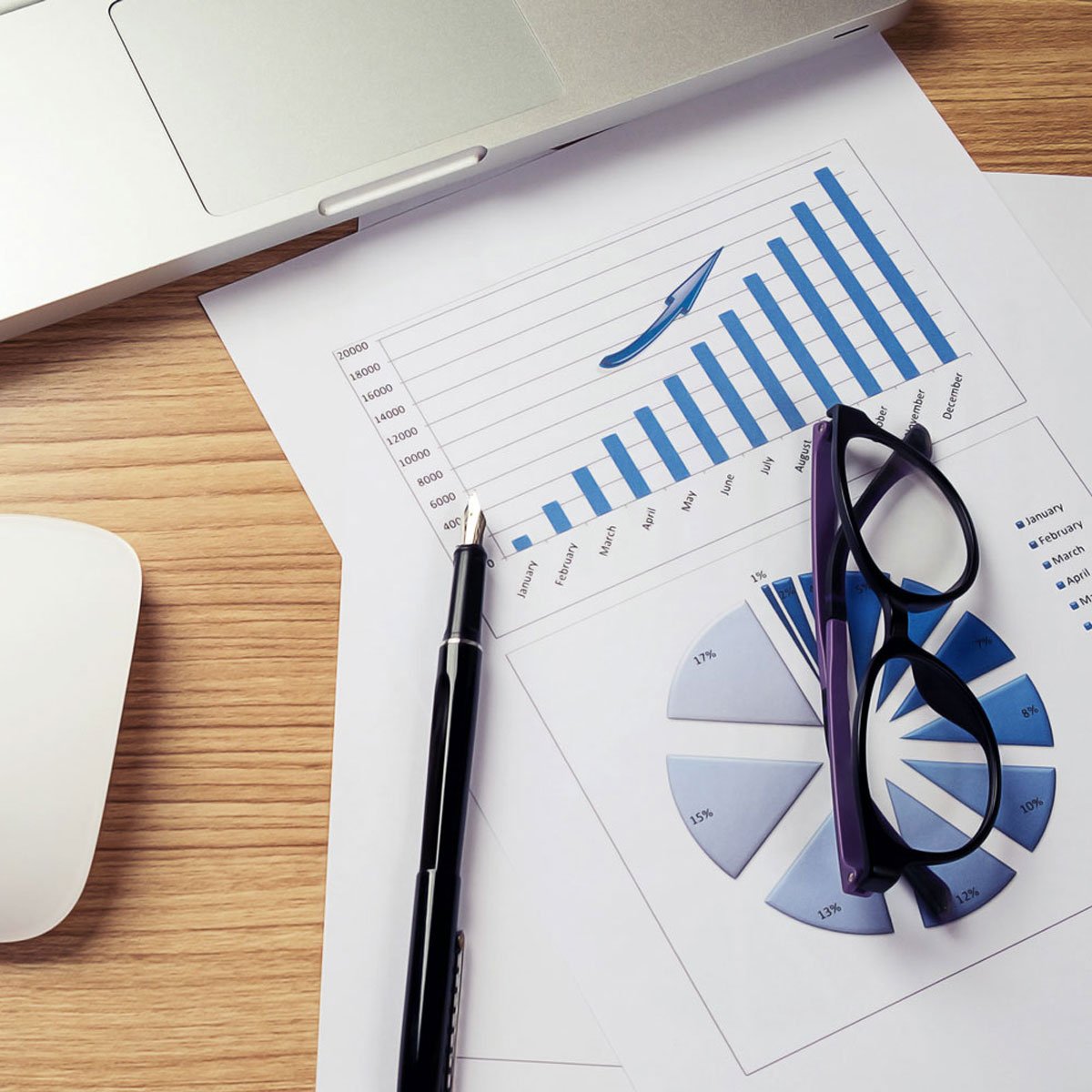 It's common sense that people enjoy an active experience more than a passive one. But how much does that really matter to your bottom line?
By connecting to their audience with wireless keypads and apps, presenters can boost learning and retention by 17 – 37 percent. If those presenters are talk about sales or other business boosting strategies, then the ROI is pretty easy to see.
An engaged audience that learns and retains the information you've taught will be much more likely to practice what you've preached.
Why Use Audience Response Technology?:
Assess the needs and comprehension of audiences in real time and tailor content to make better use of time.
Boost attentiveness and engagement by asking audience members to participate in the presentation
Identify priorities, vote on alternatives, and quickly tabulate results for better group decisions
Presenters gain the tools and technology to track and measure meeting effectiveness.
Get input equally from all audience members. (Introverts rejoice!)
Get reactions and input during team meetings.
Plan more effective programs with pre and post meeting assessments.
Reduce the learning curve by teaching to multiple to learning styles simultaneously.
Learn about the key preferences of customers and stakeholders
Ways to Use Audience Response

Although the technology and uses differ, audience response systems essentially use wireless devices to transmit instant audience responses to questions, polls, surveys, quizzes, games and more. With this instant line of communication, presenters can interact with their entire audience and display results in real-time using software such as PowerPoint.
The uses of audience response systems are virtually unlimited, but often include:
Electronic Voting and Polling
Whether it's an official local government issue or an informal audience poll, tap into the collective mind of a large group in an instant, without sparking a heated debate or compromising anonymity.
Assessment and Feedback
Stop assuming anything about your audience and start asking, with instant assessments and feedback. Change and adapt to your audience in an instant by polling the people you're speaking to, anytime. Gauge knowledge, interest and demographic characteristics to become a more effective and engaging facilitator or speaker.
Pre and Post Meeting/Event Assessment
Plan better meetings by measuring any metric that matters to you, your audience, or your organization. Design better programs by measuring attendee interest in speakers and topics and conduct "before and after" assessments to demonstrate learning. Implement feedback-generating opinion questions to automate your evaluations and "smile sheet" reports after sessions and conferences. Store and share your data anywhere for action and analysis.
Training and Learning
Streamline and engage every educational environment with electronic quizzing, polling, attendance and instant communication between any number of students and their instructor.
Market Research
Make better product and marketing decisions with actionable feedback obtained by collecting the unfiltered opinions of anonymous consumer test groups. Gather both quantitative and qualitative data via multiple choice, scalar, and text based questions.
Gamification
Enliven presentations with friendly competition and creative thinking by developing rounds of interactive challenge questions for your most important topics. Use rewards and instant scoreboards to drive information retention and subject mastery.
Team Building
Facilitate teamwork and interaction with small-group brainstorming and their electronically submitted solutions. Or use individual demographic and opinion questions to showcase the opinions of audience members with insightful segmentation.
Case Studies
Real-life case study questions can spark critical thinking to engage your audience, by presenting possible solutions and polling audience members on the best alternative. Instantly display the results for discussion and deeper topic exploration.
Who Uses Audience Response Systems?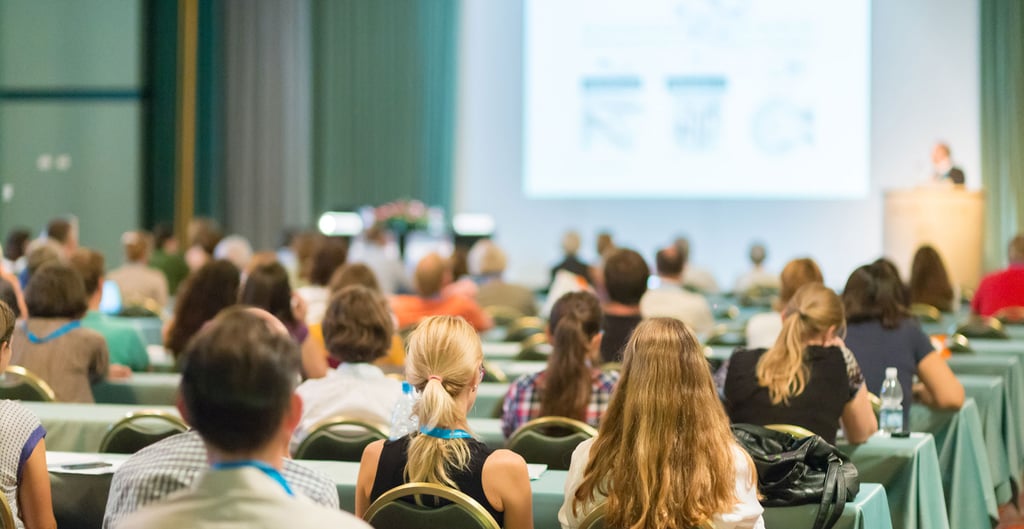 The first audience response technology was introduced in the 1960's for market research and evaluation of unreleased motion pictures. Advances in computers and modern wireless devices have made audience response more affordable and accessible for a rapidly expanding universe of applications.
Today, audience response systems are used by:
Local governments
Schools and universities
Conferences
Live events
Medical training facilities
Market research companies
Corporations
Multi-location organizations
Consultants and professional facilitators
How Does Audience Response Work?
Explore the basic steps you should consider before and during your first use of an audience response system. With so many options for customization, it helps to get very familiar with the basic structure of your system and how both a presenter and audience will interact with the technology.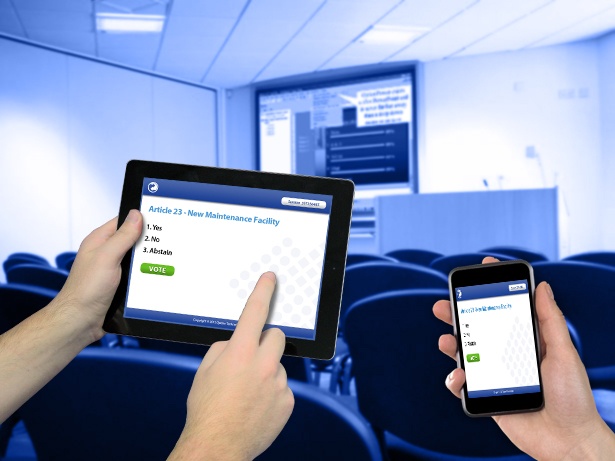 Introducing the System
The best time to introduce use of an audience response system is BEFORE the meeting or event. This helps limit confusion and develops the skills of the presenter. For corporations and educators, the right time might be well in advance in order to field questions, accessibility and privacy concerns. For conferences and during live events, a brief explanation and practice question to kick-off your presentation is usually all that's needed.
Often, the biggest concern of participants is a fear of negative consequences for their answers or lack of participation. So, be open and clear about how you intend to use the system and the data you collect. In many cases, using the system in an anonymous mode helps overcome these concerns.
Briefly explain who you are, why you're using audience response technology and how it will be integrated into your presentation. Explain incentives or compensation, dispel concerns about how the data will be used and explain system confidentiality or anonymity. Finally, be sure to thank your audience for their valuable participation, before and after your presentation.
Planning Questions
The success of your polling process will largely depend on your method of preparation. While compiling a list of questions may seem simple, there are a host of options to consider that will affect both the quality of participation and your results.
Use the following best practices to plan the questions of your polling questions or survey:
Determine the purpose of your questions or survey. Why are you asking each question? What are you trying to measure accomplish?
Choose the content of each question by beginning with an outline of the concepts or topics on the session agenda. Review your outline to identify the most important topics before writing whole questions. This ensures you're getting all of the information you need without trying to tackle too much in one session.
Choose a format. Although your options will be limited depending on the type of equipment you're using, there are four main formats of survey questions:
Open-ended questions ask for a short text-based response, allowing for a wider variety of information to be collected.
Closed-ended or multiple choice questions provide a list of possible pre-written answers to pick from. Although limiting, this format is often the most effective for immediate analysis.
Scalar questions that rate or evaluate an item using a set of alternatives (e.g. 5 point numeric scale from Strongly Disagree to Strongly Agree)
Ranking questions asking the participant to put a set of items in an ordinal sequence. (e.g. rank these five items in order of importance to you).
Use direct, simple wording with easy to understand choices.
Focus on one topic at a time. If you find a question is too wordy or comprehensive, try revising it into multiple questions.
Use a funnel approach: Keep opening questions simple, interesting and broad. Save more specific, sensitive or difficult questions until you're nearing the end of your survey.
How are Answers Submitted?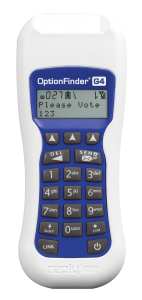 Depending on the type of system you're using, audience members submit their answers using classic "clicker" devices, wireless keypads, or apps downloaded to tablets and smartphones. Your computer or tablet, outfitted with the right audience response software for your system, will instantly receive the data and automatically populate your presentation.
Displaying Results
Speakers have a few different options for instantly displaying the results of audience polls, surveys and questions for discussion, reinforcement and decision-making.
The format you choose is entirely up to you. Thankfully, audience response technology has become so popular that it's easily integrated into most presentation software including PowerPoint.
Use your software settings to set display controls and preferred format including graphs, percentages, individual responses and votes per answer choice (ex. 35 people voted for selection A.)
After-Audience Data Collection, Reporting and Analysis
The data you collect during presentations, meetings and training sessions is valuable long after your audience has departed. Save your responses to use and analyze later in reports. This will help you with your planning work and organizational decisions. Most audience response systems will generate useful reports and export session data into a program such as Excel. More advanced systems will store and analyze data from multiple presentations and sessions.
Training and Tech Support
Training is an important factor in choosing an audience response system and vendor. Look for a variety of training options to suit your team's varying needs.
Common options include:
Web-Based Training: Typically a webinar and conference call combination in which your team can observe an instructor explaining and using the audience response system software.
On-Site Training: A more comprehensive option, this in-house training usually includes software training and navigation, template creation and report generation, equipment setup, troubleshooting, as well as data backup and restoration.
Design Training: Learn to get more out of your system by going beyond template to create your own unique exercises and more using advanced software features.
Coaching Services: Consulting services, as needed, to expand your team's skills in both the basic and advanced features of audience response software.
Most audience response systems are made to be simple, intuitive and easy-to-use. Unfortunately, that doesn't guarantee you won't need some help. When you're choosing a vendor and a system, be sure that tech support is readily available and software updates are published regularly to keep your system current.
Need a more hands-off, full-service experience? Many companies offer to professionally facilitate your entire meeting or provide a system operator for hands-on support during your event or presentation.
Even if you're not sure what level of training and support you'll need, it's better to choose a vendor that provides a variety of options for both.
Choosing the Right Audience Response System
There are nearly as many audience response system options as there are uses for them.
Instead of being overwhelmed with the number of choices, familiarize yourself with the basics, with a focus on how you want to use the system, as well as the size and demographic of your audience. A trustworthy, professional vendor will explain the systems that work for you and your budget, while giving you some room to evolve and expand how you use it.
The Hardware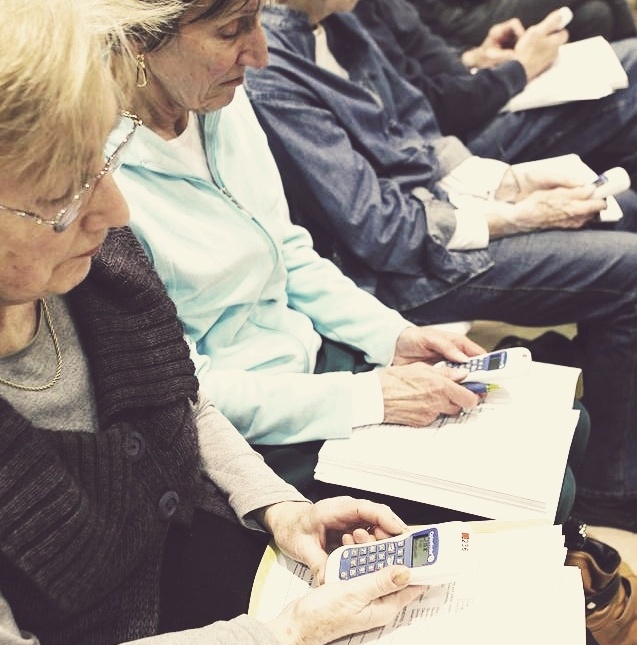 Audience response systems use a variety of wireless, handheld devices to instantly transmit audience data. Although most of these modern devices use the web to transmit data, other options use infrared, radio frequency and cellphone networks.
Each transmission type has specific, situation-based benefits that make certain systems a better option than others. For example, purpose built audience response devices (clickers and keypads) are often more secure and reliable in locations where wifi and cellular connections are not available. Smartphone apps and SMS systems typically cost less but require a compatible device and network connection.
Because of the wide availability of smartphones and tablets, these web-based devices are quickly becoming a very popular option. They are particularly valuable for those who need text-based input and more sophisticated ranking questions. Classic clicker "devices" and keypads are typically easier for the audience to pick up and use. As a result, clickers often result in higher audience response rates.
The Software
Audience response software applications provide instant communication between the input hardware used by your audience and on-screen data tabulation and display tools. The best software option depends on your purpose in using the system as well as your system hardware.
Always remember, software should help (not hinder) your meeting or presentation. Look for a software option that's easy to use, intuitive, and versatile enough to offer all of the functionality you need: interaction, report generation, data export and Microsoft PowerPoint integration, etc.
Narrow down your software choices by determining the functions you need:
Question formatting and authoring tools for your intended use (correct answer, ranking, text input, cross tabulation)
Relevant data display tools for your purpose (charts, ranked results, results by participant)
Support for your preferred hardware platform (radio, infrared, SMS, WiFi, smart phones, tablets, computers)
Compatibility and integration with Microsoft PowerPoint or your preferred presentation software
Presentation displays or slides that easily match your preferred branding (color, font, themes, objects, timing and animation)
Tools to instantly create, poll, and re-poll questions
Ability to analyze data and compare results on screen (demographic sub-group, pre-post, question category)
Reports that match the format you need (single or multiple session, demographic sub-group, roster participant, scored assessment, gradebook)
Question, roster, and polling data import and export tools
Compatibility with your preferred data analysis application (Excel, SPSS, LMS)
Customizing a System
With so many options for audience response hardware and software on the market today, it's easier than ever to customize a system for your specific needs. Yes, you could do research and piece together a system from scratch. However, the best way to customize a solution is by planning consulting professionals who understand the technology better than anyone.
Before you even begin discussing system features, focus on the goals of your system and what you want to get out of it. Contact the experts of Option Technologies for a custom plan that's built for achieving the results you need.
Rentals
Although nearly every business begins their audience response system journey with rentals, many do choose to rent indefinitely. The biggest benefits of renting a system are saving time, saving money and receive a consistent, customized experience, when you need it.
Rentals are priced by system type, days of use, and logistics costs, but may also include technical support and training. Often, rental solutions include a system operator, polling and presentation design, data reports and advanced hardware configurations for larger events.
Most vendors offer two main types of rental services:
Full-Service
With this hands-off option, best for large meetings of 300+, an interactive meeting consultant will set-up, strike and run the whole system for you, create your slides in advance and provide you with data reports.
Self-Service
This DIY option is a great money-saver for teams with a little more time and technical skill. Setup and operate a customized, interactive system package, including receiver/base station, keypads and software. Then, simply send it back after your meeting.
Purchase
Once your team is familiar with audience response systems and is planning to use a system more than four to six times per year, you might consider purchasing. Purchase benefits include savings on hardware rentals, ability to access the system anytime, and availability for use by your team members. Purchase costs will depend on the number of devices, the number of software licenses and modules, the number of receivers or base stations and the number of storage cases.
Before you buy, consider the potential drawbacks of purchasing:
Upfront costs in the hundreds or thousands
System maintenance, storage, and transportation
Depending on how you use the system, you'll need to hire or train a skilled operator
If the size of your audience varies greatly, you may still need to rent additional keypads or clickers as needed
Interactive systems require routine maintenance, battery changes, repair and software updates
Like all technology, audience response systems become outdated overtime and will need to be upgraded or replaced
If you have the manpower, skills and frequency of use that make purchasing a smart investment, consider renting additional devices and accessories as needed, to supplement your system.
Frequently Asked Questions
Do I need to buy or can I rent my audience response system?
You may rent or purchase your audience response system. Additionally, you may rent devices and accessories to supplement your purchased system.
What is the maximum number of people that can be in the audience?
System capacity is determined by hardware constraints and software licensing. Infrared systems typically have a maximum audience capacity of 50 to 100 participants. Radio systems can scale to as many as 15,500 people at a single location. App and web polling systems can scale to hundreds of thousands of participants.
What is the maximum range of the different types of clickers?
System range is determined by hardware design. Infrared systems are limited to 15 to 100 feet depending on ambient room and window lighting. Radio systems are limited by transceiver strength and bandwidth interference. Systems on the 2.4 Ghz band typically have a range of 100 feet to 650 feet. App and web polling systems are limited by the range and capacity of the nearest WiFi access point or cellular tower.