Don't React, Interact.
OptionPower gives you an easy-to-use audience response system that promotes increased audience engagement and interaction. Your presenters will love the audience feedback and data gathering functionality.
OptionPower software is a fully-integrated add-on for Microsoft PowerPoint. In just moments, a PowerPoint slide presentation becomes an interactive, dynamic, and two way communication tool.
OptionPower is seamlessly integrates with PowerPoint and leverages presenter skills and menu familiarity.
Audience members use purpose built handheld "clickers" or browser connections on smart phones, tablets or computers to respond to presenter questions. The OptionPower system gathers data from participants and immediately shows tabulated results in a wide variety of useful formats.
There are several useful add-on Modules for the platform that have functionality specifically designed for adult learning, survey research, group competition and delegate voting.
If you need meeting software to add audience interactive without the complications, contact Option Technologies today. We will provide you with a quick, no-pressure proposal.
"Just wanted to say thanks, everything was packaged well and the event went great. I'll probably be ...
Tom S., Manager, Educational Events Company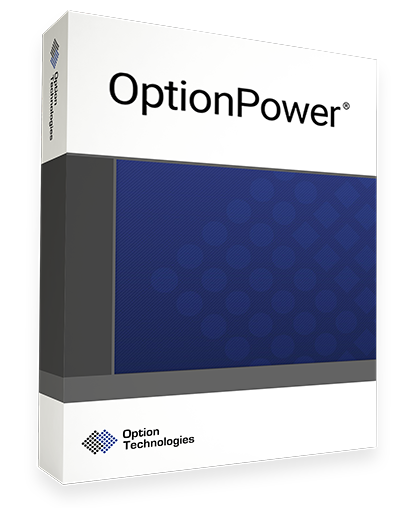 Simple Preparation
Presenters only need a basic knowledge of Microsoft PowerPoint
Presentations are easy to develop and simple to master
Make existing slides interactive with only a few simple changes
Easy Presenter Tools
PowerPoint presentations run normally for both presenter and audience.
Significantly reduce coordinator workload for administering feedback surveys, assessment activities and training exercises.
Keypads are durable and simple to use.
Immediately display results so presenters can confidently steer the presentation
Post-Event Data Analysis
Easily export data from an SQL database to Excel or Access
Create sophisticated data spreadsheets right from PowerPoint with the Report Manager
Quickly evaluate and compare multiple meetings or sessions to baseline norms