Vote with Speed & accuracy
Every town administrator needs to record Board votes with speed and accuracy. The Council Voting Module™ is an add-on product for the OptionPower® audience response system.
It is designed to facilitate voting and decision making by representative bodies and councils using OptionPower's wireless interactive polling systems.
If accuracy and speed are important in your voting processes you will benefit from the capabilities of the Council Voting Module.
The time to prepare, administer and count votes for resolutions, legislative issues, and motions can be reduced by more than 50%. You will achieve measurable cost savings while conducting an orderly roll call balloting process that tabulates and displays results immediately.
ACCURATE VOTE TALLIES
IMMEDIATE RESULTS
FLEXIBLE DISPLAY CONFIGURATION
ROSTER AND ROLL CALL SUPPORT
"Thanks for your help…We did our first test in our monthly Town Hall Survey and the interface was ...
Jonathan M. , Manager, Manufacturing Company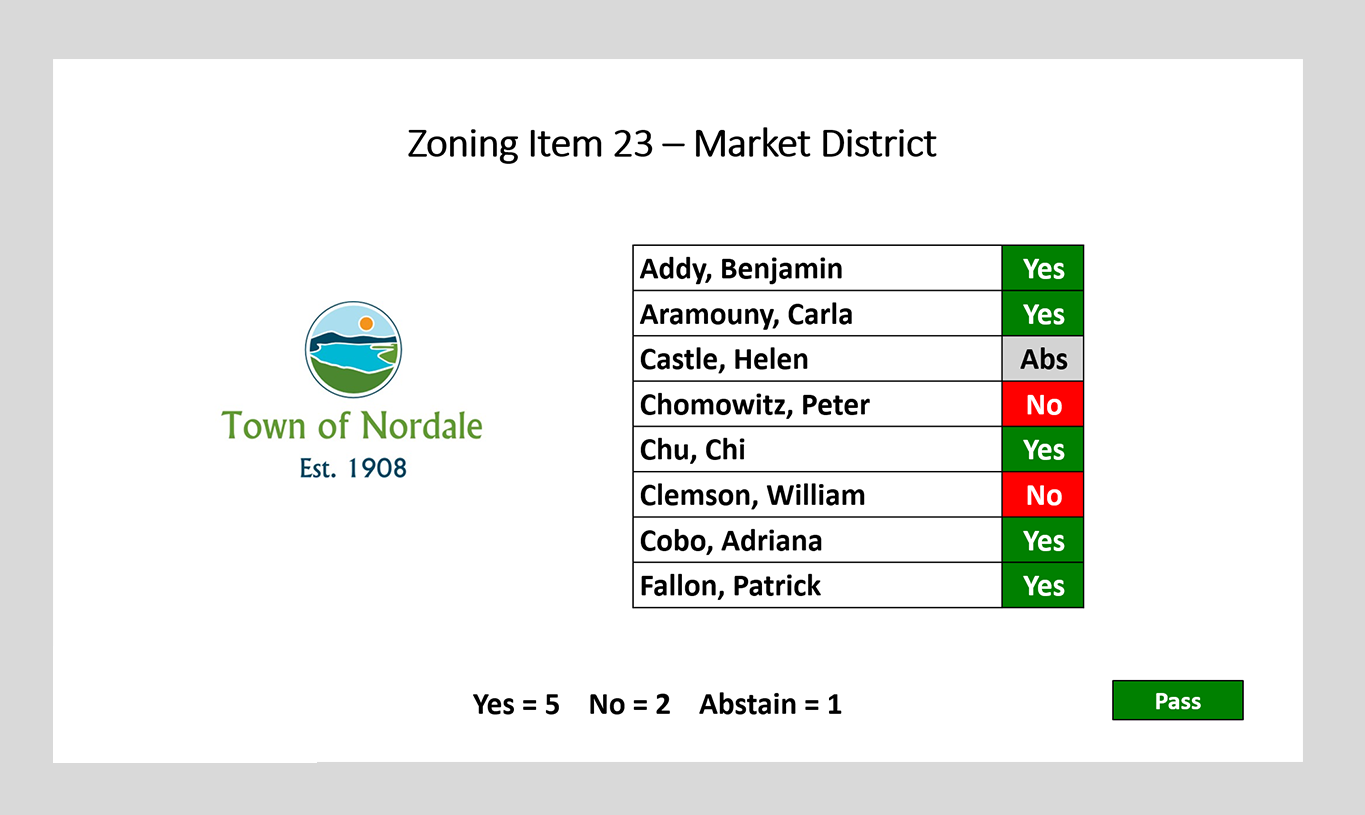 Special City Council Voting Features:
Weighted Voting
The Council Voting Module allows you to calculate voting results quickly and easily, even when representatives votes are weighted! Weights are added to individual representatives in the participant roster. The system supports sophisticated calculations associated with sub-groups and jurisdictions.
Flexible Balloting
Add or remove voting slides instantly as motions and amendments are offered. Immediately jump to new ballot questions.
Results Indicator
Display a Pass/Fail indicator based on the quantum of votes required for passage. (e.g. 50%, 2/3, 3⁄4. etc.) Support for complex weighted voting calculations.
Date Capture
All data is stored in a relational SQL database and tracked by voter, session, sub-group and ballot.
Roster & Sub-roster Support
Create or import rosters of voting participants with name, district, precinct, jurisdiction, voting weight and log-in ID information. Switch between rosters quickly and easily.
Quorum Rules
Enter and apply quorum requirements as part of the ballot tabulation process.
Request To Speak
Capture requests to speak during the meeting. Display a list of representatives who wish to be recognized.
Data Exports & Roll Call Reports
OptionPower's advanced reporting capabilities make it easy to prepare the voting reports you need.
The Module includes a variety if reports specifically designed for Council voting. Show roll call lists with individual results on ballot items and meeting sessions.
Display results by precinct or jurisdiction. Tabulate using weighted voting formulas.