ASSOCIATION DELEGATE VOTING
Planners who organize membership voting meetings often need a highly accurate and flexible voting system. Balloting transpires rapidly with amendments, procedural motions, and new candidates added instantly to the mix. In some cases, proxies or weighted voting add additional complexity. OTI's comprehensive voting software and seasoned support team handle these challenges so you get reliable outcomes for your leadership team.
RELIGIOUS CONFERENCE VOTING
Religious conference organizers need balloting software to handle complex balloting procedures and questions. The voting software must handle hundreds or thousands of votes for multi-candidate and multi-pass elections. When you combine these complex elements with long days and hundreds of motions, a paper balloting system is not a viable option. Option Technologies gives you an entire suite of software, easy to use clickers, and a full support team to make your next meeting a success.
"Thanks to you and your team from Option Technologies, all our voting went without a hitch... Many thanks to you and your team."
Presiding Bishop, the United Methodist Church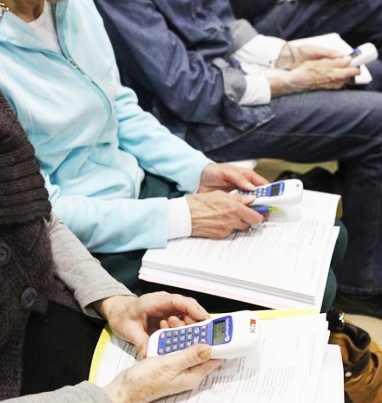 UNION VOTING
Faced with infrequent meetings and complex voting procedures, union organizers need a smart and reliable voting system. Option Technologies provides both software and hardware solutions to account for weighted voting, split voting and allocated voting.
Along with these voting solutions, OTI also provides on-site support so that everything goes smoothly. OTI's meeting specialists are so capable, we can even immediately alter the pass/fail formulas if a single attendee leaves the room.
VOTING AT PUBLIC MEETINGS
Attendees at open or representative Town Meetings need an easy-to-use and highly accurate electronic voting platform. City Councils, School Boards and Legislative bodies need to track and display votes by name. Option Technologies provides both electronic voting software and hardware solutions that can deliver privacy or public accountability. The voting hardware is simple to operate and a relational database delivers tabulated data instantly.